Run security ops and digital ops at petabyte scale
More effectively than ever before — with all your data
Resolution Intelligence Cloud is a cloud-native data analytics platform for managing risk and optimizing overall operations, with the scale and speed of Google Chronicle built in. The platform ingests all data across security and digital operations, correlates alerts, identifies incidents and pre-incident situations, prioritizes them based on business risk, and provides extensive context for fast, proactive resolution. With the platform, you can:
Observe everything from a common operational view of security and digital operations data.
Determine what matters and route actionable insights to the right people at the right time.
Understand what's happening with analytics and visualizations.
Act fast and proactively with context, proactively, and automate as much toil as possible.
How Resolution Intelligence Cloud works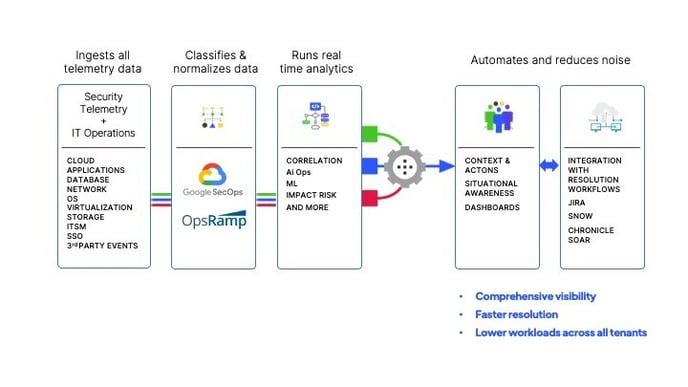 "The important thing to remember about a platform like this is that all this data generation and analysis is done behind the scenes, by the automated systems built into the platform. By doing data analysis and correlation, the platform lets analysts and operators focus on solving problems and the tasks at hand."
Subscription plans
Resolution Intelligence Cloud subscription plans fit wherever you are in your journey toward highly effective and efficient security operations digital operations at scale. See pricing and packaging details.
Ingest all your data
Resolution Intelligence Cloud ingests all your security and digital ops data, then identifies what matters most so you can proactively manage material risks to the business without constant fire drills.
Ingest all your data for comprehensive observability — and search on hot data for a year.

Automatically discover anomalies, assets, and vulnerabilities.

Threat hunt.

Have the extensive context you need to effectively resolve critical issues.
Read about data ingestion and integrations.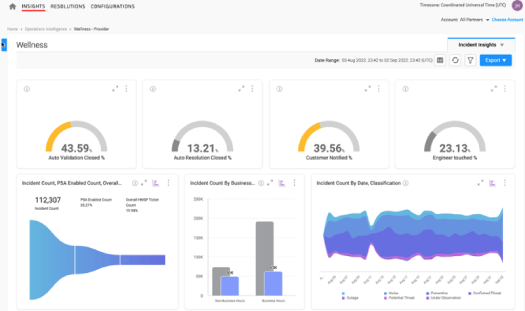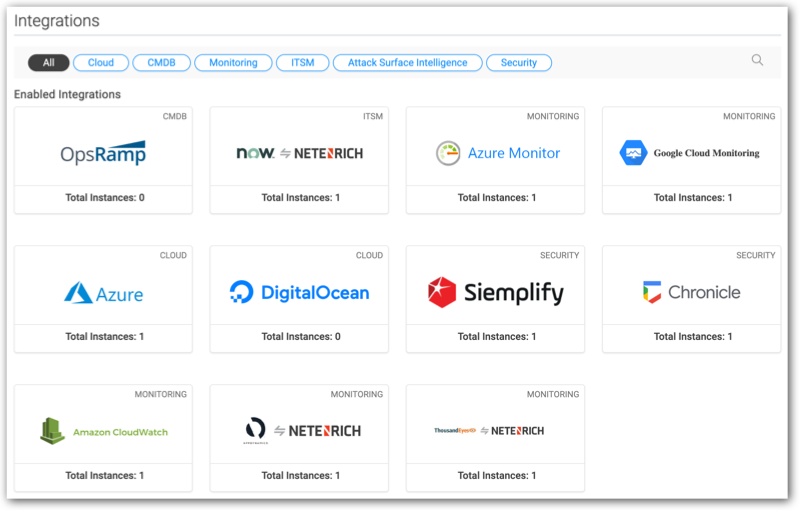 Blazingly fast setup
It takes less than a day to set up the platform, multiple Resolution Intelligence Cloud tenants, and diverse data sources. Ingest terabytes in days.
Connect directly to cloud data and populate Resolution Intelligence Cloud.

Easily configure data feeds to Resolution Intelligence Cloud.

See real-time ingestion health and analytics.

Use the Content Management System for detection rules and parsers that run in your Resolution Intelligence Cloud instances.
Detect unknowns with behavioral analytics
Detect anomalous behavior based on any attribute, not just user behavior and entity behavior.
Run "what if" analyses to simulate situations and observe outcomes.
Track abnormal activity — in other words, where there's more or less than normal.
Investigate anomalies with Conversational AI — no more manual pivots and queries.
And more.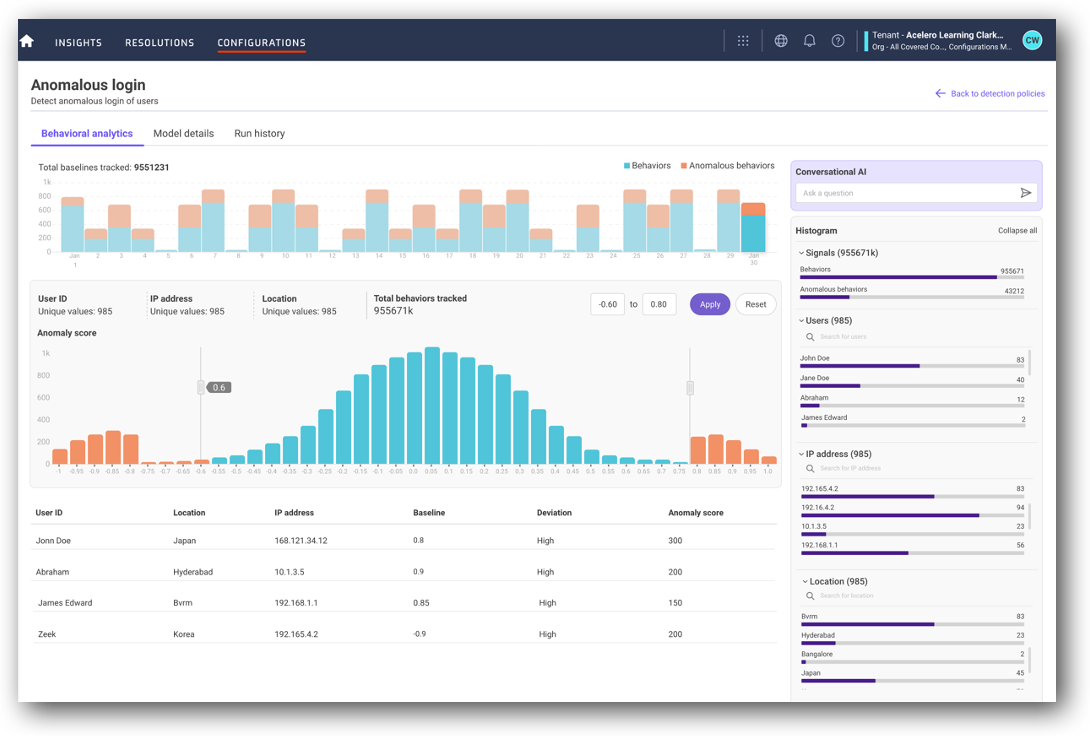 Have critical context with ActOns
Boost efficiency and effectiveness with the information you need at your fingertips. Resolution Intelligence Cloud generates actionable insights you can act on, called ActOns. ActOns present highly curated, contextual data — like related alerts, asset, and user data. You can focus on what matters most because ActOns are prioritized based on a risk score that's aligned to your business and derived from likelihood, impact, and confidence. Click on ActOns to dive into details and investigate further.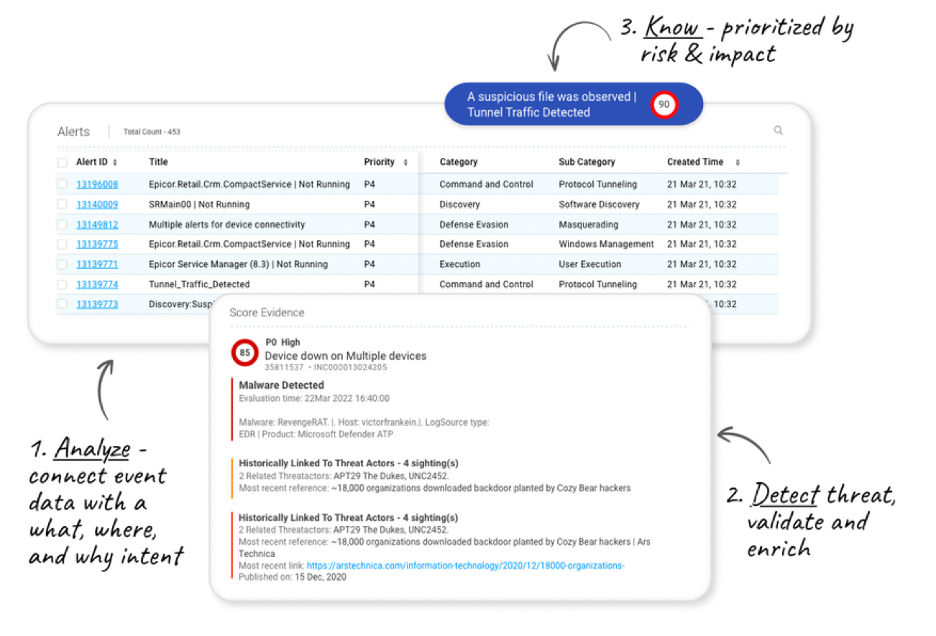 Threat hunt & investigate with signal analytics
Start broader, dive deeper, and correlate relevant data with graph tools and a machine-learning (ML) toolkit.
Discover correlation, direction, and relationship strength between users, assets, and other entities.
Filter out the normal, find what is otherwise hidden.
Identify patterns with the easy-to-use ML toolkit to instantly cluster by MITRE tactic, MITRE technique, detection rule, and more.
Maximize SOC and NOC effectiveness
Gain insight and oversight with situational awareness
Work from a complete picture with data across security and ops. Get insights at any level through dashboards that show what matters most.
Up-level SOC & NOC teams
Automate responses that don't require humans in the loop. Reduce noise and enable staff to focus on tasks that require their expertise. Resolution Intelligence Cloud gives teams the context they need to take informed action.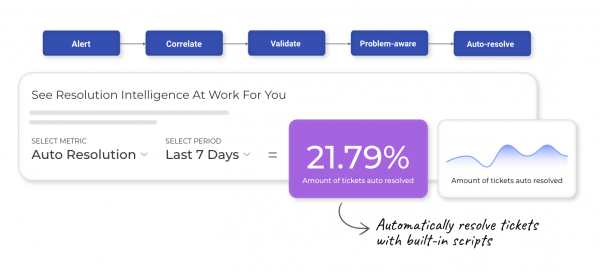 Get sub-second search at Google scale
Enjoy blazing fast, sub-second search on petabytes of data that's stored hot for a year. With one click, pivot to investigate incidents further. You maintain control of your Resolution Intelligence Cloud instances and IP.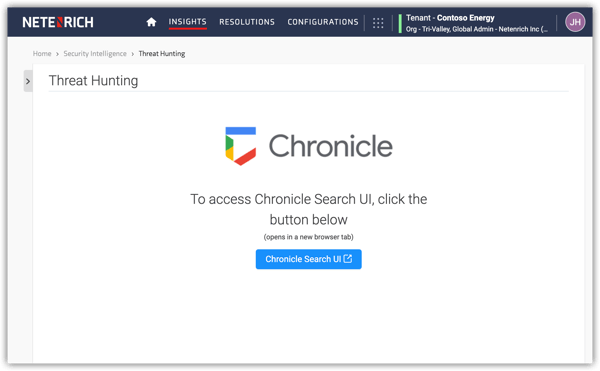 Manage multiple tenants efficiently
Tenant-by-tenant management is time consuming and doesn't scale. Resolution Intelligence Cloud adds multi-level multitenancy to your Google Chronicle instances. Log into Resolution Intelligence Cloud once to streamline rule- and parser-building, threat analytics, and event tracking across your entire base. Apply detection rules to all, some, or one tenant.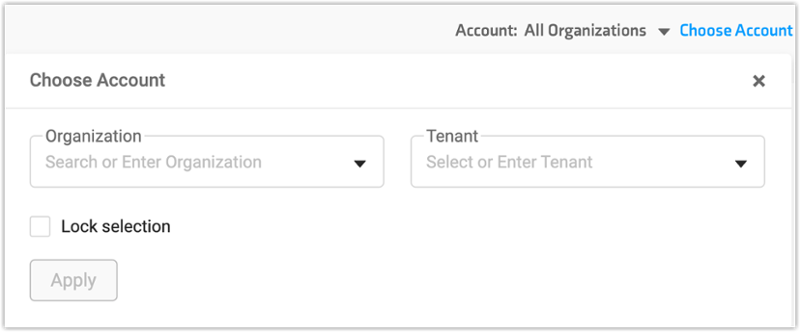 Security posture mapped to MITRE ATT&CK
Identify and remedy detection gaps with automated log mapping to the MITRE ATT&CK framework. ActOns display a MITRE mapping of the correlated events detected, giving you instant insights.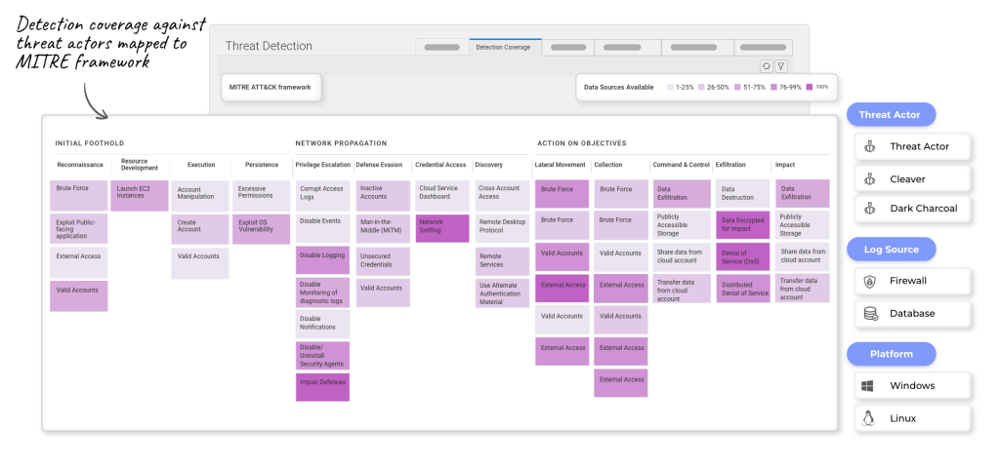 Featured webinar
Watch this on-demand webinar where Matt Bromiley, a Certified Instructor at SANS Institute, reviews Netenrich's Resolution Intelligence Cloud. Learn about key product highlights and where your enterprise can quickly find value by harnessing the vast quantities of data in your environments.